The current pandemic is making life hard for all musicians Independent musicians - those you may have never heard of are suffering the most. Performances are being cancelled, classes are being cancelled or severely limited, recording studios, even home studios are not functioning and more. You can help out by listening to their music via streaming platforms like Spotify, Apple Music (iTunes), and Amazon Music. Big name groups probably don't need help. Instead, try to listen to people who you have not heard on the radio. The artists make money for every song played. Also consider purchasing a track or album. If an artist has a donate button on their website, consider making a donation. Here are some links to get you started: Spotify (Listen for free) | Apple Music (iTunes) | Amazon Music | Google Music. And of course we can be helped with every piece of sheet music you buy or by taking music lessons over Skype or Facetime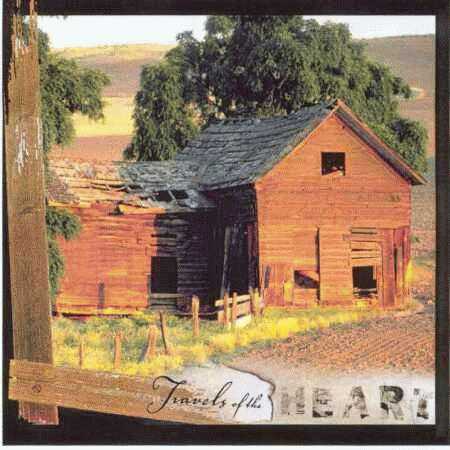 Travels Of The Heart
Behind the scene details about the songs on the CD

See also the technical details page.
This CD can be purchased or downloaded at CD-Baby, iTunes, Amazon
Why do a CD?
James writes:
After many words of encouragement from people I know and from audience members at choral concerts I have played for, I started considering doing a recording. In addition, over the years I have written or arranged a large number of pieces, some of which have only been heard by a small number of people. That, combined with a desire to share my music with others, I decided to go ahead and do this CD. It might bear mentioning that I had just finished up playing the piano on and co-producing two CD's for a group at the time I started giving this project serious consideration. I guess spending all that time in the studio made me want to spend more time in the studio.
For the CD I looked at all of my original music and arrangements written for all instruments and chose a variety of music. One might compare the selections to a journey through the music I have written or performed over the years. A significant amount of my musical experience has been playing hymns and gospel songs so I have included a handful of those. But for the bulk of the CD, I chose original compositions. The compositions are in a variety of styles although one description that kept coming up during the mixing sessions was "mood music" or "environmental" music or "soundscapes." Although it is probably not fair to describe the entire CD in those terms.
About the songs
Song of Joy, They Shall Come and Praise Song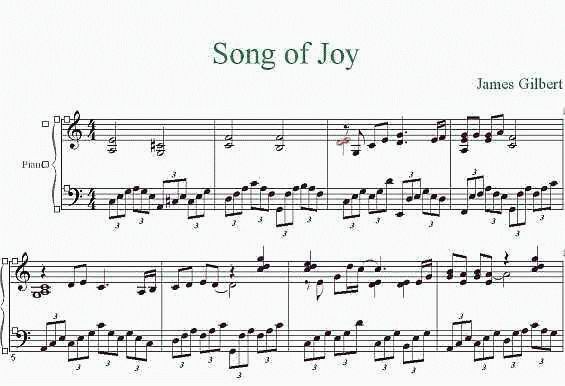 These three songs are original compositions, each set in a different style. The first, for solo piano, is quasi-classical in some regards with its use of 3 against two rhythms. The left hand is almost all triplets and the right is duplet. It reminds me somewhat of various etudes and solo pieces of various classical artists, including Chopin, although in a more contemporary/light-jazz style. The second song is in a light pop style. In addition to solo piano, I have added a synthesizer sound to the melody. Some people have compared it to a trumpet, others to a violin. A good song to listen to with headphones. The third piece in this set uses the most number of instruments. In addition to solo piano, it has a drum track, chordal string parts and two solo melody lines - rhodes piano and a quasi guitar or harpsichord sound. Sort of an african/pop/jazz feel.
Heaven Above, Twilight's Praise, More Precious
These are also all original compositions. The first, a solo piano piece, was inspired by a character theme in the soundtrack of an immensely popular sci-fi movie from a few years ago. The movie was set in space - the heavens - thus the title. It is polyphonic in nature - many melodies going at once - and could probably be best described as neo-classical or neo-romantic in style. It has been revised many times since I first wrote it in 1999. The 2nd piece above was originally written for a small 20 piece church orchestra (with piano & synthesizer). In addition to solo piano, this version includes a recurring pulsating moog-like synthesizer sound - just as the original version had - as well as some string like sounds. More Precious is the most unusual piece. I was thinking of the Switched On (Bach, etc.) series of Wendy Carlos when I decided to record it, although it was originally written for solo organ (manuals only). This is recorded with two separate, very electronic sounding instruments. It was inspired by the praise chorus More Precious Than Silver but is not that song. Instead of being contemporary, it is written in a two-part invention style. As I am a classically trained musician and composer, I like to get back to my roots and this style of writing, while maybe not terribly original, is a style I'd say all composition students have to learn at some point in their training. Contrary to stories that have surfaced, the sounds are not intended to sound like the many insects and frogs that are present 24 hours a day where I live.
Adoration, Travels Of The Heart, Solitude Thought
Adoration, originally titled Adoration & Glory is for solo piano and is more classical than pop in style. It is one of the oldest pieces on the CD, having been written in 1990. The title song Travels Of The Heart was written on the bus during a choir tour in 1997. It started out to be a handbell composition but before it was finished it became a solo piano piece. You might notice a handbell feel in the middle section. The background sound is a bamboo voice/flute sound with a hint of rain sticks. If you thought it interesting that the last piece was written on a bus, wait until you hear where Solitude Thought was written. In the early 1990's while living in Dade County (Miami), FL I was called in for jury duty. While waiting to be called to a courtroom for possible inclusion on a jury, there was little to do but stare at the wall or TV so I brought my music paper and sketched out ideas for songs. This was one of those. (And no, in the many years I got called in, I never once was selected for a trial). I added some voice/string pads to enhance the sound.
Lenten Thoughts, Reflections, Fairest Lord Jesus
The first piece is a reflective, inward focused piece, for solo piano. In church music, this would work well for the Lent season. Reflections is an interesting piece with many examples of musical reflections (or echoes if you prefer). I added a synth pad sound to the solo piano part. You could also say there is a reflection to childhood toward the very end with a quote from a melody often associated with childhood. I may of given too many clues, but I still challenge you to find and identify that tune. This piece was originally written as a backup for the act I was planning to do at a parent's weekend talent show at a college student center I was working at. As it turned out, I did not need to use this piece and it was never performed until after the recording was made. Moving from original compositions to hymn arrangements, we start with an arrangement for solo piano of Fairest, Lord Jesus. This hymn is one of the more popular hymn tunes in church music. This arrangement was originally written for an orchestra in 1982 and I have also written a version for piano, organ and synthesizer.
Rejoice, Ye Pure In Heart; Blessed Assurance; Footsteps
Originally written for an ensemble of 4 Brass and 4 Strings, this first hymn tune was re-arranged for brass quartet alone. Later, I adapted this for solo piano. All versions have the same syncopated rhythm. The tune on which Blessed Assurance is based is usually found in 9/8 time - a lilting, even waltz-like feel. This arrangement, originally written for choir & piano, is set in a 4/4 meter in a 1970's era style pop feel and is a solo piano piece. I've also adapted this piece for solo instrument with piano. The version heard on the recording contains a middle section not found in the other versions. The final piece in this section is a piano duet. I originally wrote it for an orchestra in the early 1980's but adapted it for piano/organ duet a few years later. Revised and re-written for piano for this recording, it is an unashamedly gospel piano style rendition of this hymn. Through recording trickery, explained in the tech details, I play both parts on the recording.
At Calvary, Showers Of Blessing, Allegro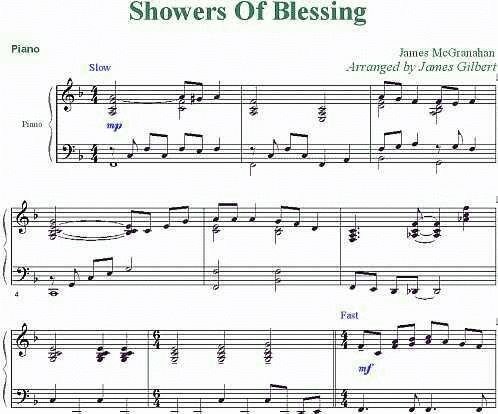 While starting off as a gospel style arrangement, the first piece strays away and has some very tight harmonies and even a section of this 4/4 piece written in 3/4 time while ending back in gospel style. This was originally written for and performed by a brass quintet back in the early 1980's. It was recently adapted for solo piano. Showers Of Blessing is another hymn usually found in compound member (eg. 9/8, 6/8) that has been re-written in a pop 4/4 style. Added to the solo piano is a string pad in the slow sections. The final piece of the CD is the only piece not composed or arranged by me. The Allegro is the first movement from W.A. Mozart's Eine kleine Nachtmusik. I decided to include it for two reasons. First, I had recently performed the piece in a recital and thinking back to all the classical music I have played, I thought it would be nice to include a classical piece on the CD. This particular piece is from an edition long ago in the public domain that includes no editor or arranger information. Like Footsteps, the Allegro is also a piano duet. Unlike the recital, for the CD I played both parts.
Final thoughts
I think I've included a fairly good mix of the various styles of musical pieces I've done over the years. There should be plenty there for your listening enjoyment. I hope that you enjoy the CD and I very much welcome any comments you might care to share with me, no matter how small. Please share your interest in this CD with others and invite them to obtain their own copy of the CD. And thank you for not making copies.